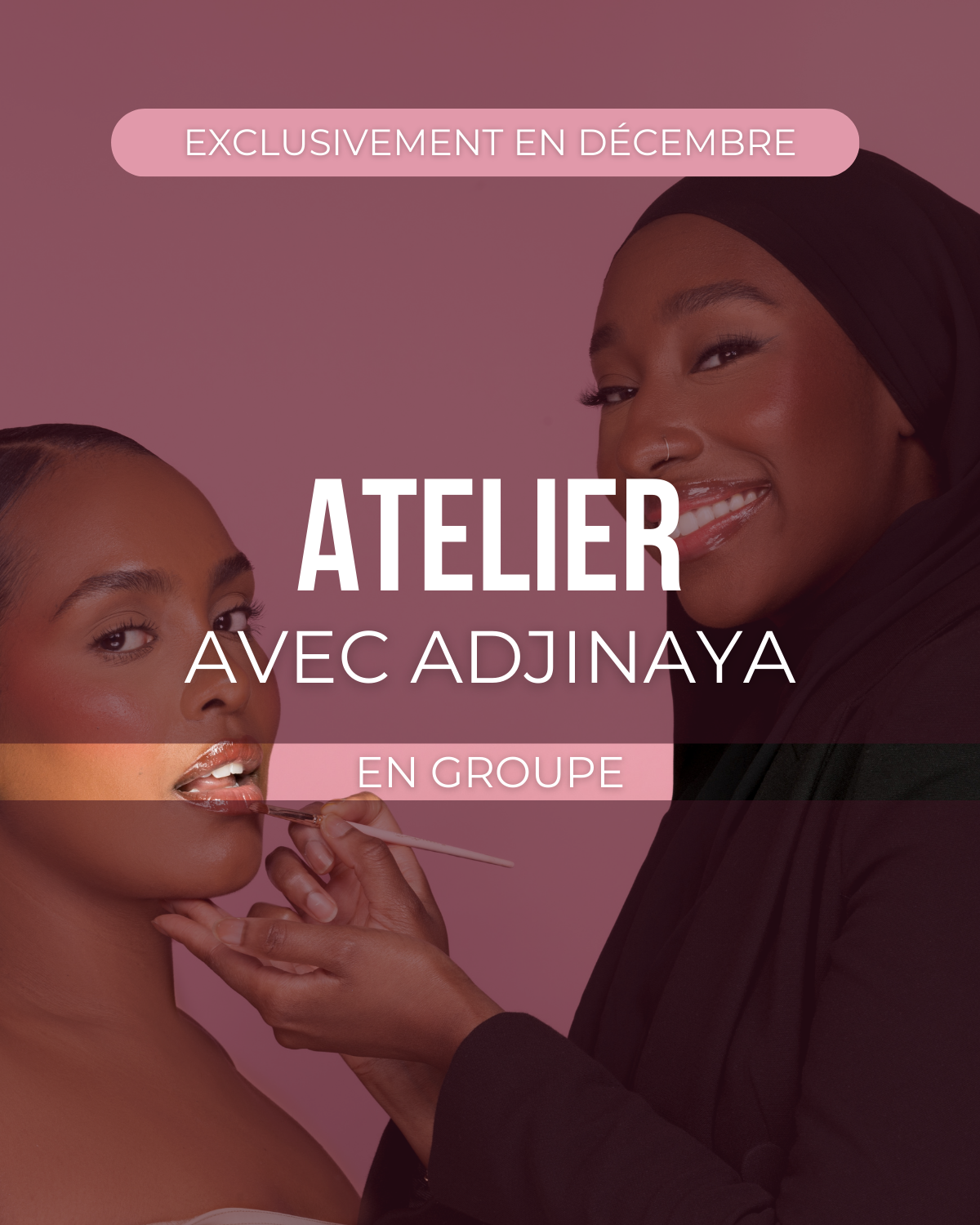 3 HEURES | 150€ | ☆ TOUS NIVEAUX
Profitez d'un ateler d'auto-maquillage avec Adjinaya exclusivement durant le mois de décembre !

Les ateliers d'auto-maquillage vous apprennent à vous maquiller seul(e), à la fois pour vous sublimer dans la vie quotidienne et pour des occasions.

Ces ateliers thématiques de 6 personnes se déroulent sur 3 heures.

Nos expertes vous aideront à donner le meilleur de vous-même et repartir avec un bagage de connaissances, de bons réflexes et d'astuces pour vous faire belle.
Prochain atelier : les dimanches de décembre.
THE BASICS OF MAKEUP
LEARN THE BASICS OF MAKEUP
In the program :
Choice of products and colors
Perfect complexion without demarcation
Achievement of perfect eyebrows
Achieving a perfect nude mouth
FOR WHO ?

The make-up workshop is accessible to anyone wishing to learn how to apply make-up on their own.
WORKSHOPS OFFERED

Makeup basics
Perfect complexion and eyebrows
Evening makeup
Guest daytime makeup
Cut Crease
Smokey eye & Contouring
All about the eyes
PROGRESS OF THE WORKSHOP

OBSERVATION

One hour demonstration by our expert
MATERIAL

You must bring your own make-up bag and brushes.

Equipment will also be made available to you.
REGISTRATION DETAILS

RÉSERVATION

When a workshop is available, you can register directly by clicking on the Book now button.

DEPOSIT

Deposits are non-refundable.
For all levels
We train students from all walks of life, individually or collectively.
ADJINAYA MAKEUP STUDIO
SCHOOL OF EXCELLENCE
Makeup Artist for more than 10 years, the founder Adjinaya learned the profession of professional makeup artist as an autodidact, then for 6 months in a prestigious school.
Over the years, she has made a name for herself in the world of beauty and imposed a style while combining different make-up techniques, including American, Russian and Brazilian techniques.
Nicknamed El Professor, she sublimates you for your special occasions when she is not in the studio for her individual and collective training.
Adjinaya and her trainers welcome you to a dedicated space of 233m² in the Paris region. The concept: favor quality over quantity, which is why training is only done in small groups to encourage sharing, exchange and follow-up.
DISCOVER OUR TRAINING
And choose the one that suits your needs and level.
COLLECTIVE TRAINING

SELF-MAKEUP